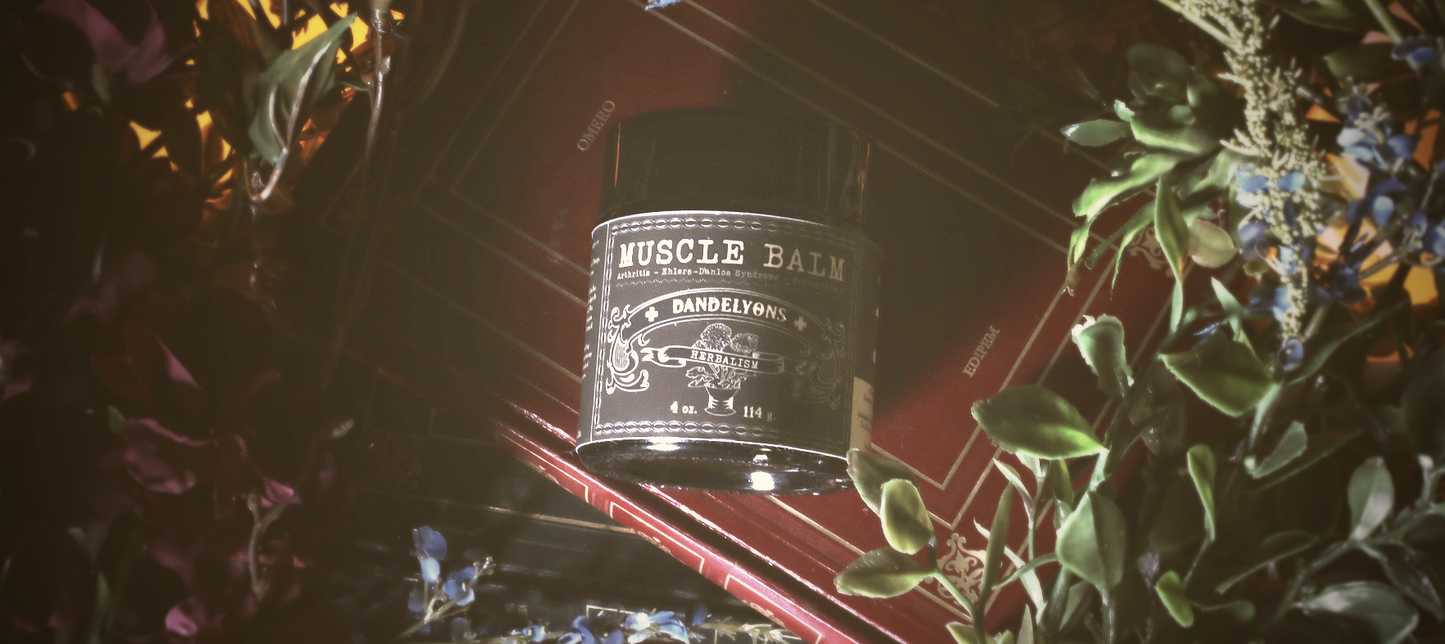 Natural Muscle Balm Relief- CBD or Another Alternative?
Joint pain, arthritis, athletic injury- these are usually chronic problems the human race has to deal with day to day. Throughout history, healers and doctors alike have been obsessed with trying to figure out how to best alleviate the symptoms in order to make daily living more enjoyable. There's been thousands of ways developed for pain management existing in both western pharmacy and old age herbalism. Recently, there has been a spike in popularity in choosing a natural approach to manage pain symptoms, especially after wide-spread opioid use instigated an addiction epidemic. Many have probably seen CBD as a natural approach to pain management, as its popularity has saturated the health market and store shelves- but is there an alternative that could outperform it?
People who have not seen results with CBD muscle balms are looking for other natural alternatives
   CBD was recommended to me by a friend after I was diagnosed with Ehlers Danlos Syndrome (This is a syndrome where your joints dislocate daily and your muscle fibers aren't properly connected to your bones). With this condition, my symptoms of pain are chronic and the only option my doctors had suggested at the time was long term opioid pain medication. I tested using CBD twice a day topically on my body to avoid opioid reliance and unfortunately my expectations fell short. As with all types of medicine and health, each person varies in terms of treatment and need. Although I know there are people out there that truly enjoy strictly CBD treatment, I felt there was a vast majority of herbal research that was yet to be discovered for a new pain management product on the market. As I delve deeper to find more answers on the efficiency and potency of CBD, I found other concerns-
 Harsh Chemicals in Cannabis Cultivation can disrupt bio-development of CBD integrity
   Cannabis Growing has become one of the highest priced-per-yield crop of the 21st Century but has compromised its health benefits through cutting costs and greed emphasizing.  The same way we have seen carcinogenic fertilizers used and banned in the food agriculture industry, we are seeing it equally pop up in the Cannabis Sector. From my personal opinion, this relates back to why the food industry started doing it- Increase profit margin and yield while disregarding end-use health benefit. The most startling information I found in my research was the fact many cannabis advocates have tried to bring this issue to the attention of the jurisdiction regulators in order to provide more safety to end-use CBD products; but to no prevail. Unfortunately, this safety issue doesn't end with just the cultivation of CBD plants.
Current unregulated processes of CBD extraction pose risks to end-use product
   Extraction methods for raw ingredients is the most important step of product efficiency and long term benefits. Unfortunately, the market of CBD is highly unregulated and extraction methods can vary in both safety and purity. This was first publicized when the Cannabis Market released safety issues revolving around the Delta-8 THC- customers reported having dangerous adverse effects like lack of body control and psychosis. This was later revealed to be caused by dangerous extraction methods where solvent chemicals were left in the ingredient batch. This issue falls back into the CBD industry because the extraction methods there are also unregulated and chemical solvents can be left over in the product you're buying off the shelf.
What is a great alternative to CBD Muscle Balms?
   There are lists of herbal ingredients that provide analgesic muscle effects without the need for dangerous cultivation and extraction methods. At Dandelyons, I've made it my mission to research and develop products based around safety and prioritized customer's health over profit. In my search to create a potent and pure compound that could finally relieve my symptoms of chronic pain- I have developed our very own Muscle Balm. Throughout my herbalism studies, I have found both beauty and solace in the teaching of the human race's ancestors from all around the world; which I will be highlighting below with respect and honesty-
Dandelyons Muscle Balm Ingredient Index
   I believe in a holistic approach to healing and rather giving our muscle balm emphasis on just one herb (compared to the CBD industry), we are highlighting our entire force of Mother Earth's natural healing power directly to you- avoiding all dangerous extraction and cultivation methods.
Medical Advice Disclaimer DISCLAIMER: THIS WEBSITE DOES NOT PROVIDE MEDICAL ADVICE
The information, including but not limited to, text, graphics, images and other material contained on this website are for informational purposes only. No material on this site is intended to be a substitute for professional medical advice, diagnosis or treatment. Always seek the advice of your physician or other qualified health care provider with any questions you may have regarding a medical condition or treatment and before undertaking a new health care regimen, and never disregard professional medical advice or delay in seeking it because of something you have read on this website.
References:
-Lin TK, Zhong L, Santiago JL. Anti-Inflammatory and Skin Barrier Repair Effects of Topical Application of Some Plant Oils. Int J Mol Sci. 2017 Dec 27;19(1):70. doi: 10.3390/ijms19010070. PMID: 29280987; PMCID: PMC5796020.
-Gaertner K, Baumgartner S and Walach H (2021) Is Homeopathic Arnica Effective for Postoperative Recovery? A Meta-analysis of Placebo-Controlled and Active Comparator Trials. Front. Surg. 8:680930. doi: 10.3389/fsurg.2021.680930
-Leyva-López N, Gutiérrez-Grijalva EP, Vazquez-Olivo G, Heredia JB. Essential Oils of Oregano: Biological Activity beyond Their Antimicrobial Properties. Molecules. 2017 Jun 14;22(6):989. doi: 10.3390/molecules22060989. PMID: 28613267; PMCID: PMC6152729.
 -Jiang SH, Ping LF, Sun FY, Wang XL, Sun ZJ. Protective effect of taraxasterol against rheumatoid arthritis by the modulation of inflammatory responses in mice. Exp Ther Med. 2016 Dec;12(6):4035-4040. doi: 10.3892/etm.2016.3860. Epub 2016 Nov 2. PMID: 28101182; PMCID: PMC5228288.
-Commissioner, Office of the. "5 Things to Know about Delta-8 Tetrahydrocannabinol – Delta-8 THC." U.S. Food and Drug Administration, FDA, https://www.fda.gov/consumers/consumer-updates/5-things-know-about-delta-8-tetrahydrocannabinol-delta-8-thc.
-Johnson, E., Kilgore, M. & Babalonis, S. Label accuracy of unregulated cannabidiol (CBD) products: measured concentration vs. label claim. J Cannabis Res 4, 28 (2022). https://doi.org/10.1186/s42238-022-00140-1
-Simon Lenton, Vibeke A. Frank, Monica J. Barratt, Gary R. Potter, Tom Decorte,
Growing practices and the use of potentially harmful chemical additives among a sample of small-scale cannabis growers in three countries,
Drug and Alcohol Dependence,
https://doi.org/10.1016/j.drugalcdep.2018.07.040.
(https://www.sciencedirect.com/science/article/pii/S0376871618305490)
-Alhassen L, Nuseir K, Ha A, Phan W, Marmouzi I, Shah S, Civelli O. The Extract of Corydalis yanhusuo Prevents Morphine Tolerance and Dependence. Pharmaceuticals (Basel). 2021 Oct 12;14(10):1034. doi: 10.3390/ph14101034. PMID: 34681258; PMCID: PMC8540887.
-Kanjilal S, Gupta AK, Patnaik RS, Dey A. Analysis of Clinical Trial Registry of India for Evidence of Anti-Arthritic Properties of Withania somnifera (Ashwagandha). Altern Ther Health Med. 2021 Nov;27(6):58-66. PMID: 34144529.